Here at Analog, we are proud to support Black-owned businesses and companies as a way to show our support for the Black community. Here are some of our absolute favorites that we'd love to share with you, too. 
"As a makeup lover, I have been absolutely obsessed with Juvia's Place for the past few years. Not only are the prices extremely affordable (and there are usually huge sales on the site on top of that,) the quality of the products is so impressive. Seriously, Juvia's Place does not play around when it comes to pigmentation and blendability. If you're looking for a great first palette to try from them, I highly recommend the Magic Mini palette. Beauty Bakerie is another great black-owned makeup brand I love, and their bakery-themed products are so adorable and creative."
-Sarah, Editor-in-Chief
"Juvia's Place is a makeup brand I have been meaning to purchase from for years (I am just not one to ever spend money on myself and makeup always feels frivolous,) but I'm SO glad I did. I bought a 4 set of their eyeshadows, including The Violets, The Berries, The Nudes and The Browns and I have genuinely never owned better eyeshadow. These six color palettes have a mix of sparkly and matte eyeshadows with the best pigment I've ever seen. They last through an apocalypse and the colors chosen in the palettes work together to make some beautiful eyeshadow looks. They are also very affordable and they arrived at my door in less than two days. The quality and overall experience was immaculate.
I also recently purchased from the Etsy shop ChanelleNovoséy. Oh my god. I am a huge lover of candles but I love smelling them in person, for obvious reasons, but because of the pandemic I didn't really have a choice, as I try not to leave my house for unnecessary reasons. This shop has a wide variety of scents and is decently affordable for soy candles. I bought the candles from their Black Lives Matter series, where a portion of the proceeds go to BLM organizations. I cannot rave about these candles enough. The scents just of the candles unlit by themselves- immaculate. When they burn, they smell exactly like they do in the jar. 'Jamaican Me Crazy' smells like a beach I can't currently be on. 'Coffee Shop' smells like the coffee shop I can't sit in because of quarantine. It genuinely smells like a warm hug of fresh coffee and caramel. 'Fresh Linen' smells like you just did the laundry you've been putting off for weeks without having to do the work. The candles are in reusable mason jars in the $16 version, and take about two weeks to get to you, but it's well worth the money and the wait. Huge fan, will purchase again."
-MJ, Assistant Manager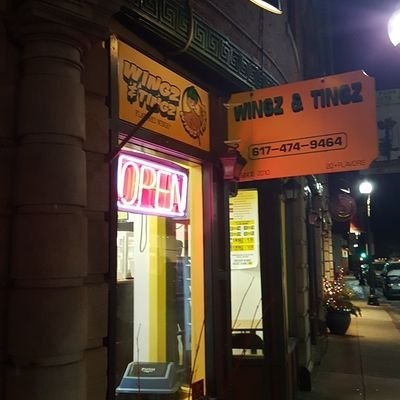 "Wingz & Tingz has been my go-to place since I started college two years ago. I can not tell you how many times my friends and I have had to make a pit stop for their Jamaican style food. Their variety of chicken wing flavors is both daring and too damn good. I'm not kidding. It's like… dangerously good. Dangerous as in "i'm-fully-prepared-to-pack-on-some-pounds" dangerous. With over 50 flavors of wings, it is easy to get lost in the true Irie Jamaican food, especially on a Friday or Saturday night!"
-Abi, Staff Writer
"During quarantine, I have found myself shopping online to fulfill my never-ending shopping addiction. Many of these purchases supported small businesses. During these times of injustice and uproar, I have been educating myself on racism and how I can support the Black Lives Matter movement. I have discovered many Black-owned businesses, especially on Instagram, and in support, I want to share three shops owned and started by hardworking and creative African American women. If you're looking for cute clothes that empower women with every piece, check out femmemute. They offer crop tops, hoodies, tees, and much more with clever and sleek slogans and graphics. Next is circantiques, who feature several cool vintage finds ranging from antique mirrors to 1950s dresses. You can scroll through all of her cool finds on her aesthetically pleasing feed and shop at the link in her bio. If you have been on the lookout for some bold statement jewelry, take a look at sewitsium on Instagram. You can find necklaces, bracelets, amulets, and earrings that are all inspired by African history and culture."
-Lauren, Staff Writer
"The Lip Bar is one of my favorite makeup brands that I keep finding myself purchasing from! Not only is their shade range incredible, but you can see every ounce of love that is put into their makeup. It holds up well, and it always adds a splash of color to any outfit or style."
-Colleen, Head Editor